PO-HSIEN J. HUANG, Ph.D.
Associate Professor
PO-HSIEN J. HUANG, Ph.D.
中文頁面
| | |
| --- | --- |
| Tel: | 5513 (Office) 5517 (Lab.) |
| E-mail: | phhuang@mail.ncku.edu.tw |
Education:
Ph.D., Ohio State University, U.S.A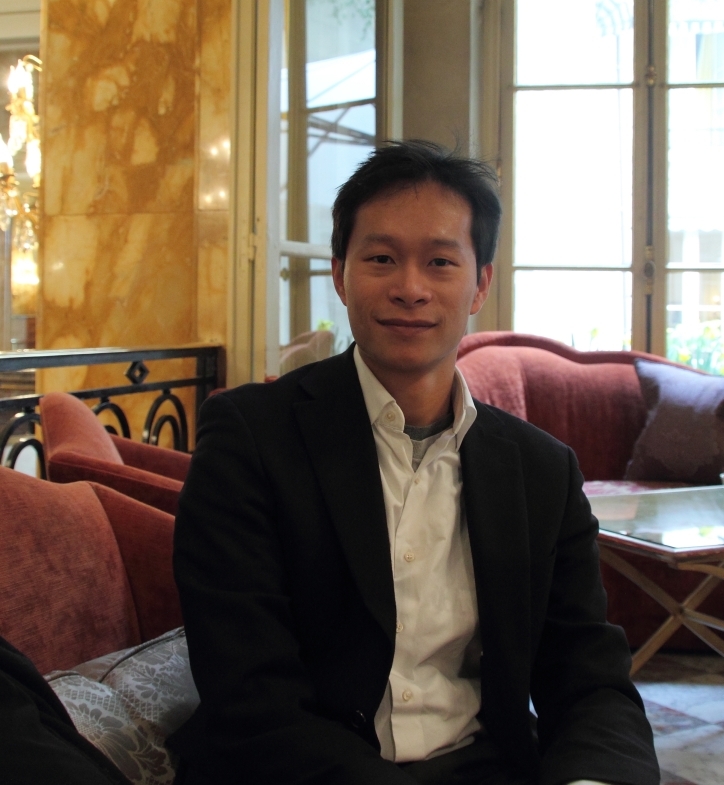 Research Expertise
Animal model of pancreatic cancer
Regulatory mechanism of DNA methylation modification
Regulatory mechanism of RNA m5C modification
Research Interest
Novel mechanisms regulating gene expression
Regulatory mechanisms of methyl-donor deposition in the genome and transcriptome
Mouse model of pancreatic tumorigenesis
Epigenomic interactions of the genome

---
Publications:
More Publications

Ding LY, Hou YC, Kuo IY, Hsu TY, Tsai TC, Chang HW, Hsu WY, Tsao CC, Tian CC, Wang PS, Wang HC, Lee CT, Wang YC, Lin SH, Hughes MW, Chuang WJ, Lu PJ, Shan YS, Huang PH. Epigenetic silencing of AATK in acinar to ductal metaplasia in murine model of pancreatic cancer. Clin Epigenetics. 2020 Jun 17;12(1):87.


Henderson SE, Ding LY, Mo X, Bekaii-Saab T, Kulp SK, Chen CS, Huang PH. Suppression of Tumor Growth and Muscle Wasting in a Transgenic Mouse Model of Pancreatic Cancer by the Novel Histone Deacetylase Inhibitor AR-42. Neoplasia. 2016 Dec;18(12):765-774.


Huang PH, Lu PJ, Ding LY, Chu PC, Hsu WY, Chen CS, Tsao CC, Chen BH, Lee CT, Shan YS, and Chen CS. TGFβ promotes mesenchymal phenotype of pancreatic cancer cells, in part, through epigenetic activation of VAV1. Oncogene. 2016 Nov 28. doi: 10.1038/onc.2016.378. [Epub ahead of print]


Weischenfeldt J, Simon R, Feuerbach L, Schlangen K, Weichenhan D, Minner S, Wuttig D, Warnatz HJ, Stehr H, Rausch T, Jäger N, Gu L, Bogatyrova O, Stütz AM, Claus R, Eils J, Eils R, Gerhäuser C, Huang PH, Hutter B, Kabbe R, Lawerenz C, Radomski S, Bartholomae CC, Fälth M, Gade S, Schmidt M, Amschler N, Haß T, Galal R, Gjoni J, Kuner R, Baer C, Masser S, von Kalle C, Zichner T, Benes V, Raeder B, Mader M, Amstislavskiy V, Avci M, Lehrach H, Parkhomchuk D, Sultan M, Burkhardt L, Graefen M, Huland H, Kluth M, Krohn A, Sirma H, Stumm L, Steurer S, Grupp K, Sültmann H, Sauter G, Plass C, Brors B, Yaspo ML, Korbel JO, Schlomm T. Integrative genomic analyses reveal an androgen-driven somatic alteration landscape in early-onset prostate cancer. Cancer Cell. 23(2):159-70, 2013


Huang PH, Chuang HC, Chou CC, Wang H, Lee SL, Yang HC, Chiu HC, Kapuriya N, Wang D, Kulp SK, Chen CS. Vitamin E facilitates the inactivation of the kinase Akt by the phosphatase PHLPP1. Sci Signal. 6(267):ra19. 2013


Krohn A, Diedler T, Burkhardt L, Mayer PS, De Silva C, Meyer-Kornblum M, Kötschau D, Tennstedt P, Huang J, Gerhäuser C, Mader M, Kurtz S, Sirma H, Saad F, Steuber T, Graefen M, Plass C, Sauter G, Simon R, Minner S, Schlomm T. Genomic deletion of PTEN is associated with tumor progression and early PSA recurrence in ERG fusion-positive and fusion-negative prostate cancer. Am J Pathol. 181(2):401-12, 2012


Huang J, Plass C, Gerhauser C. Cancer chemoprevention by targeting the epigenome. Curr Drug Targets. 2011 Dec;12(13):1925-56.